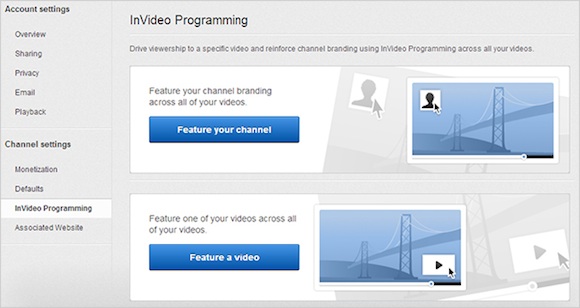 I just came across a bit of news on the interweb which I think is worthy of sharing with you, dear Prescription reader.
And it's this: Youtube have recently launched a new feature which could potentially come in very handy for musicians: 'InVideo Programming'.
In a nutshell, it allows you to insert two clickable thumbnails in a video which point to
your Youtube channel
one of your other videos
You can insert one or the other, or both.
It means that if somebody stumbles across one of your music videos, it's now much easier for them to click through to (and hopefully subscribe to) your Youtube channel, or watch a video that you particularly want them to see. It also allows you to add a degree of branding to each of your Youtube videos, as the thumbnail image used to point people back to your channel is your channel's profile pic (or you can add a JPG of your choice).
Personally I hope that Youtube improve the features a bit so that when a user hovers over either the channel or the featured video thumbnail, text is displayed which clearly identifies where they will go if they click on the link; right now users just see a not-very-informative Youtube URL, which isn't madly helpful. Additionally it would be nice to be able to promote different things within different videos - right now the thumbnails are applied across all your videos, and you can only promote one of your other videos.
I've had a play with the new functionality on one of my videos, so you can see InVideo in action here.
Get these articles in your inbox
If you enjoyed this article, make sure you sign up to email updates - we'll send you all our latest blog posts and music promo tips.
Share